News
Drivers
Teams
Standings
Results
Tracks
Forum
Daily pic

Watkins Glen rescheduled (11.5.2005)
The final race of the KJGPLS has been (surprise) rescheduled. The race weekend starts on the May 12 as expected, but already at 19:00, because the Finnish ice-hockey team wanted to see the final breath of KJGPLS. Be there or be somewhere else. But it might be your last chance to be there.
Adelaide rescheduled (19.4.2005)
Adelaide. May 5th. Be there or be somewhere else.
Kyalami rescheduled (27.1.2005)
Kyalami race has been rescheduled. The new race day is February 3rd.

According to some rumours, the race was rescheduled because some famous KJGPLS driver could not sit in his car. It is speculated that this was caused by a wild and expensive night at a "music bar".
Lime Rock MC rescheduled (25.10.2004)
The tradition of rescheduling KJGPLS races strikes again. This time the race at Lime Rock Mountain Circuit is moved from Thursday 28 of October to Wednesday 27 of October. The practice session starts at 21:00.
The KJGPLS Season 4 starts (10.8.2004)
The next KJGPLS season (KJGPLS4: The Erikoistyö Season) starts 16.9.2004. The season includes 65mod cars and total of 16 races. The season is open for all GPL drivers but signing in at the forum is required. See the season details and sign in information from the forum.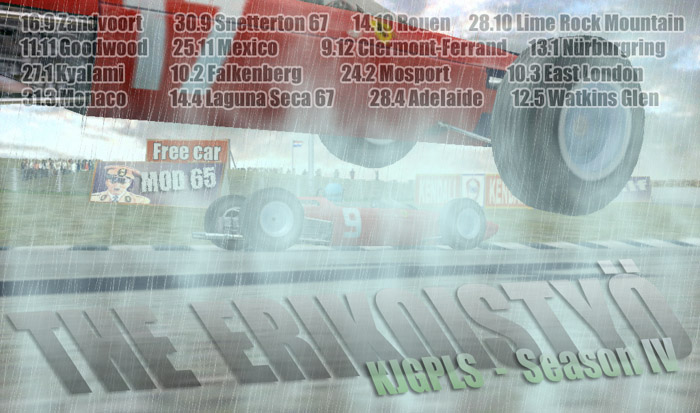 Tuomas Koskela Wins Mini Season Title (15.6.2004)
Koskela captured the Mini Season (a.k.a. Nolo Season) Championship with a tight 7 point margin over Petteri Kantokari at the season finale of Salzburgring. Jyrki Väänänen rounded out the top three with 40 points. Team Rotuvaarit with Koskela and Väänänen won the constructors championship 11 points ahead of Hayai Motorsports.
Yet another rescheduling (14.5.2004)
The Solitude race has been moved to Tuesday 18.5.
Change in schedule (3.5.2004)
The KJGPLS tradition of changing the schedule continues also in the Miniseason. This time Laguna Seca and Salzburgring swap dates.